The Mighty King
A
fter a good night's sleep in a perfect bed at my B&B La Giolitta I am pampered with a breakfast that would prepare me for day of labour in the vineyards! A selection of scrumptious home made pastries, good bread and rich cheeses from the region to name just a few delicacies.
Believe it or not, if you are out tasting wines – and big reds like Barolo – you need a good base. I had given myself until 4 pm before leaving for the coast of the Italian Riviera, Ventimiglia near the French border was my destination for the day, a mere 200 km. I drove around the rolling hills of the Langhe in the morning, passing through Monforte d'Alba where I had a nice lunch at La Salita before my visit at the winery Azienda Agricola Virna di Brogogno back in Barolo.
From a Tuscan point of view, on a grey November day, a lot of wineries in Piedmont might not look very charming from the outside. But just as you should not judge a book by its cover, never draw any conclusions about an estate before having seen the cellar and tasted the wines. The new part of the estate lies facing the famous Cannubi Crus. Signora Virna Borgogno gives me a warm welcome and introduces me to her sister Ivana, who is just back from a wine fair in Hamburg and off to Hong Kong the next day. Virna is really down to earth, or should I say the vineyards? and absolutely passionate about her wines.
She takes me across the road to the old cellar building and shows me around. It is a real pleasure listening to her, following her about the large space that is now solely used for fermentation. In the old days it constituted the whole cellar plus warehouse. Albeit having acquired a whole new set of big fermentation tanks they are still holding on to the old vessels, just in case. "You can never have enough space or free tanks in a wine cellar" muses Virna.
We go down into the barrel cellar where I am greeted by old friends: large barrels of Slavonian oak, some of them almost 40 years old. Barrels are one of my favourite subjects, so important, so mysterious – well, to me anyway. I marvel at the big old fellows, each holding 60 HL (6.000 liters, the equivalent to 7.500 bottles) and wonder about their impact on the wines. 40 winters, 40 summers have left their imprint on them as well as dozens of vintages.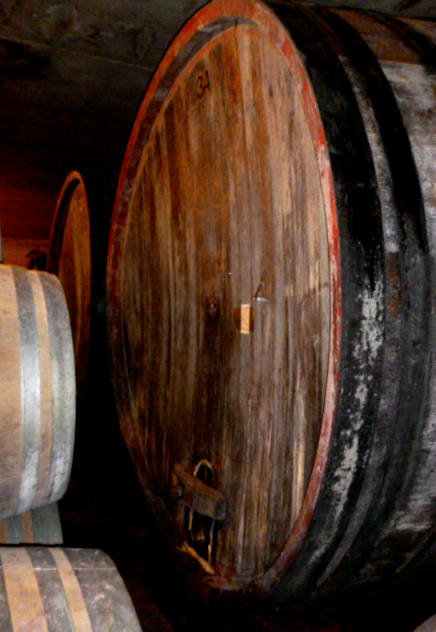 "Each year I think of throwing these out, but when I taste the wines made in them I realize, that they truly impart something unique to the wines …"
Virna likes to experiment, to expand, she is not satisfied with "the easy way". After all she has studied viticulture and oenology at Turin's university and remarkably was the first woman in Italy to do so when she graduated in in 1991. After that she has been working alongside her father for 10 years before taking over the estate with her sister in 2001: Virna making the wines and Ivana looking after the business and marketing side of things.
We cross the road again and step into the new building housing tasting room, warehouse and bottling facility as well as another barrel cellar containing mostly French oak barrels of 500 liters and more capacity. A barrel tasting ensues. Attention, never underestimate Nebbiolo's tannins!
We compare the same wine ageing in three different 15 HL barrels that were bought a year ago from different coopers: three very different wines. All very potent, well structured, pretty tannic "baby" Barolos. One barrel reveals more fruit showing integrated tannins; the next one has the tannins still going very strongly, while the the last one is showing more vanilla and chocolate.
It is way after four o'clock, I had wanted to get on the road before darkness, but there are still the wines to taste. I limit tasting to four reds. Nebbiolo d'Alba introduces me to Virna's way of dealing with Nebbiolo. A challenging grape, difficult to tame. But when dealt with in the right way and aged properly, for a long period of time, it is absolutely fascinating. This Nebbiolo d'Alba is a smooth wine, well structured, showing red fruit and well integrated tannins and a slight spiciness.
Originally posted November 3rd, 2014
Tasting Notes in this  POST
T
oday (Jume 2022) Virna produces nine reds, one rosato and a new white from the autochtone varietal Timorasso. The winery is part of . This is a Piedmont network of THE GREEN EXPERIENCE producers who practice a green, reconsidered and sustainable viticulture. At the same time honoring the Unesco World Heritage region of Piedmont with its biodiversity of soils, respecting water and other resources. It is time I planned my next visit!