Barolo: Wine of Kings, King of Wines
When I talked to my Swedish friend Dan Olsson, owner of the wine shop Golf y Vinos on the Costa del Sol about doing a presentation of Italian wines, I knew I really should pay the Langhe area in Piedmont a visit. It was practically on my route to the very south of Spain. So one sunny November morning I set out north and arrived five hours later in Piedmont
November and no fog – I felt so lucky! And vineyards everywhere! How very, very different from our Tuscan wine region Montalcino.  Just like at home in the Mosel region for example or in Styria (Austria). The village of Barolo is surprisingly small, barely 750 inhabitants, and the vineyards nearly reach right into the town centre. There, I was confronted with a big, newly renovated building, home to the traditional (since 1761) Cantina Borgogno.
In 2008 this estate had been bought by Oscar Farinetti, creator of Eataly for about $ 30 million. The tasting room is very modern, clean and bright, the paper water cups sporting the Eataly Logo, Farinetti's ambitious high class Italian food temples now slowly spanning the globe.
R
emember, this was 2014 and Eataly had not yet expanded to the 35 locations it holds today all over the globe. Back then only four locations existed. Two of them in Italy: Turin and Rome and two in the US: New York City and Chicago.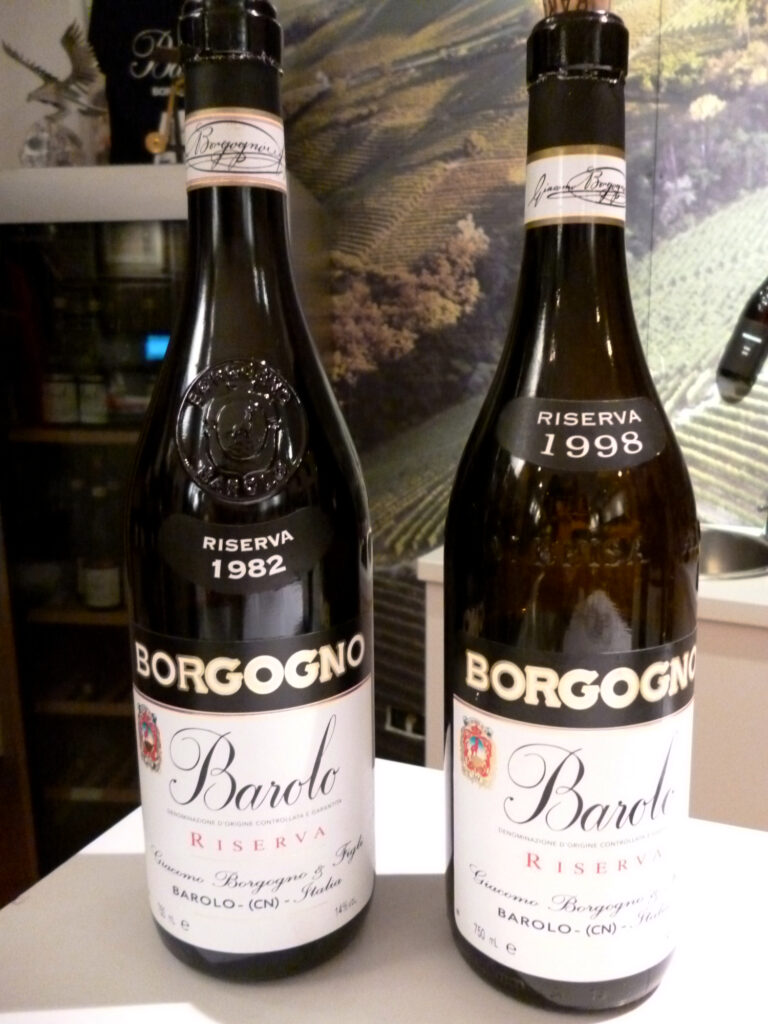 What caught my attention was a vertical tasting of six  Barolo Riserva wines for 60 €: 2006 – 2004 – 1998 – 1982 and 1967. Utterly tempting indeed, but since said bottles were simply displayed on a table – not refrigerated – I doubted that the older vintages were still up to par. Also, some of the bottles seemed to be quite empty, an unfavourable ratio of oxygen and wine. I resisted, left and wandered on, coming upon Museo dei Cavatappi the corkscrew museum which also hosts an enoteca. While chatting with the welcoming and most knowledgable owner Paolo Annoni I tasted three wines that were kept cool in a professional wine dispensing system. Tasting notes to follow.
On my way back to my lovely B&B La Giolitta I passed the impressive building of Borgogno again and couldn't resist another peak. The 1982 vintage kept hovering in the back of my mind, a great year for Barolo and Barbaresco. Since it was near closing time I asked whether I could just have a tiny tasting of the Riservas 1982 and 1998. I mentioned that I was working with wine in Montalcino and was met with a very generous offer. "Ma certo! We are colleagues" they reasoned and invited me to taste the two wines for free, which really made my day!
Originally posted November 2nd, 2014
Tasting notes for 2004 Domecio Clerico Giabot Mentin Ginestra – 2000 Pio Cesare – 1998 Michele Chiarlo's Cerequio -1982 & 1998 Borgogno Riserva in this POST