Back in Jerez de la Frontera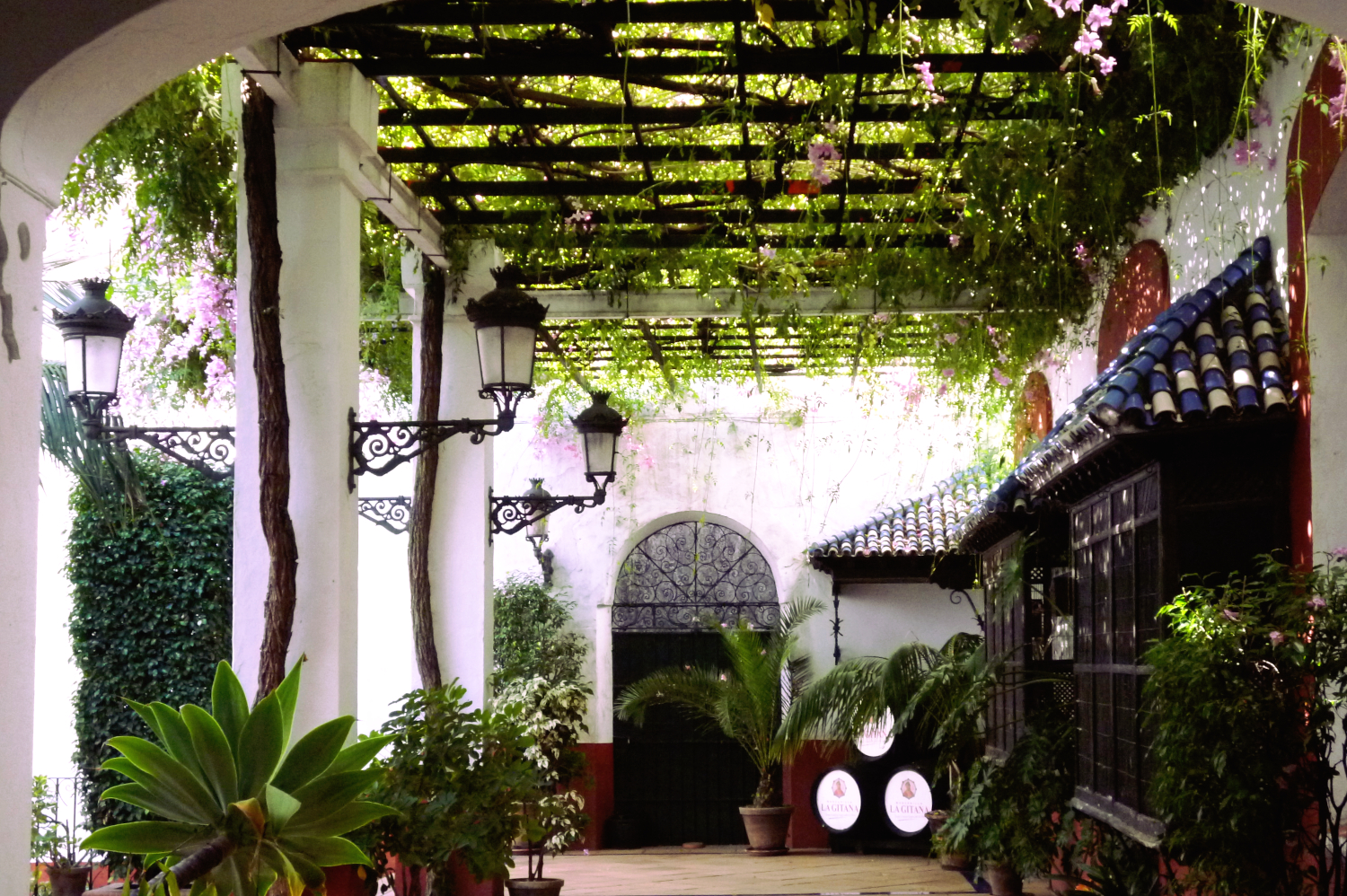 M
anzanilla pasada Pastrana by La Gitana was my first Sherry love – a young sherry from Sanlúcar de Barramenda. The equivalenot so nt to a Fino from Jerez. When later I learned about the intricate production methods during my wine studies the dream to visit Jerez had formed.
Two years ago, researching Sherry on the internet while studying for exams I had come across Justin, who at the time was still living in Jerez, a fellow student of the WSET Diploma in Wines and Spirits. He had offered inside knowledge like the wonderful hotel Casa Grande on Plaza de las Angustias in Jerez de la Frontera, only a few steps from the city center. Last year I had met him in person on my first trip to Jerez and now I was looking forward to meeting him again.
Casa Grande is just that, a big old Andalusian mansion with a bright inside courtyard featuring potted palm trees and a marble floor. 15 rooms go off from two galleries, as is the custom in these old mansions, two of them are on the roof, the azotea. The roof terraces offers splendid views over the city.

Today is the first time I unpack my entire suitcase since I have left Montalcino eleven days ago. Finally I will stay 3 nights in one place.

Andalucia is a very rural and still quite poor region, unless you are at one of the tourist towns along the coast. Coming here is a little like travelling in time. Jerez has a run down feel to it, a lot of the smaller shops are closed. The pedestrian area is being taken over by your usual suspects: cheap fashion chains. But here and here there are beautiful spots: Art Noveau architecture, some moorish influences and a miriad of balconies, some of them with tiled bottoms. So when you look up it looks nice. Beautifully whrought iron bars shield each and every window on the ground floor.
There are tiny streets and walkways, miniscule shops and then there is the old market. A flurry of business inside and outside. Naturally there are the many churches. The cathedral like so many of them seems daunting, almost very powerful and serious. Quite different from the Italian ones I know. "Italian art does not seem to be understood here," I smilingly muse as I explore the area around the cathedral. Here in the south the catholic belief is alive as many saints adorn the walls, inviting prayers of hope or thanks.
As everywhere in the south of Spain orange and lemon trees line the streets. Their fruits are starting to ripen, their bright colours contrasting the dark green and very blue November skies.
"They need the cold to turn organge." Justin tells me over breakfast. He was brought up in Rhodesia, now Zimbabwe,  where the oranges, even when ripe, stay green. He gives me some more tips regarding bodegas and above all restaurants before he heads off again.
Unfortunately he cannot meet us for dinner at La Carboná, a very good restaurant in the area housed in a converted old Sherry bodega. Monika, the German co-owner of the hotel and I will dine there tomorrow. During my last stay I had made friends with her and we had stayed in touch.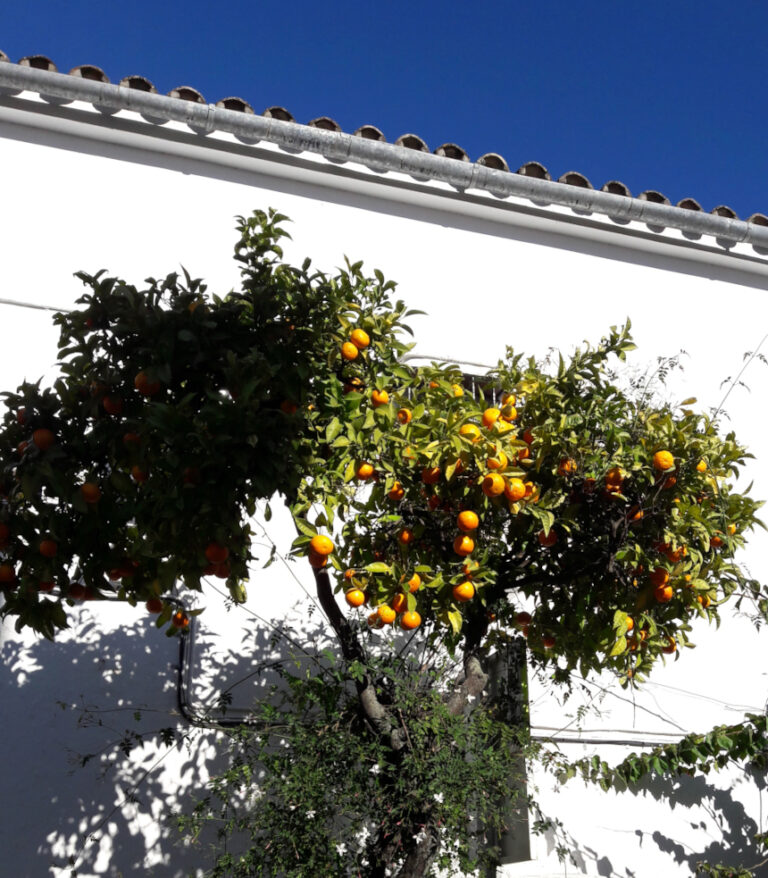 Originally posted November 12th, 2014
M
onika since has sold her shares of hotel Casa Grande, but the hotel is still as lovely as ever. Today Jerez is on its way back to its old glory. The feel of neglect I experienced back in 2013/14 has been replaced by a bustling new energy. Carboná is going strong, frequented by local gourmets and tourists alike, the food better than ever. Their tasting menus are a must when in Jerez de la Frontera.