Going South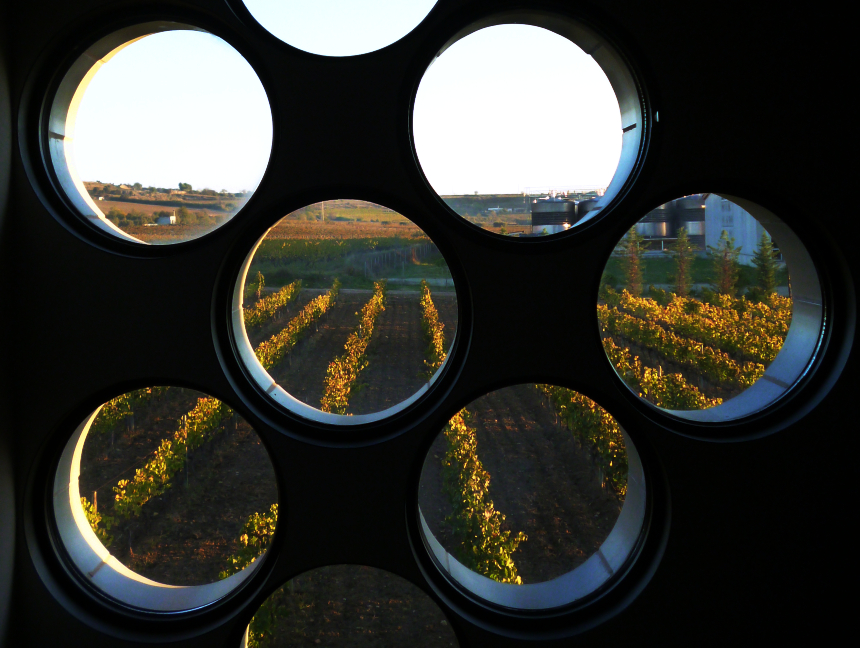 Wine Road Trip - Day 5 & 6
I
t was late afternoon when I left charismatic Codorníu, heading to Vilafranca de Penedès, some 15 Minutes away. There I would spend the night in the new boutique hotel belonging to a Cava producer. The friendly shop assistant at Codorníu had advertised it as a "must-see". As it was low season the rates almost affordable a room was available.
When I got to the Cava bodega Mastinell I instantly understood what she had meant by another "gem in terms of architecture".  It seemed only fitting to have moved from Codorniu's Modernisme style of the young 20th century to the contemporary and actually sustainable architectonic take on winery and hotel. It is stunning in its own way featuring an unusual wavy roof and round windows arranged so that they resemble bunches of grapes. The sight is a happy one and really made me smile. Words can#t begin to describe the view plus I have to admit that I did not take many pictures. Check the amazing photo gallery of the Mastinell Cava and Hotel for yourself.
Instead of looking to get a cheap dinner in the town I went all out and ordered a tasting menu paired with my new favourite Cavas: the Reservas. The meal and the wines were simply delicious and wonderfully tipsy and very tired I went to bed quite early – for Spanish standards. Another drive of 450 km was awaiting me the next day.
After a hearty breakfast I set out towards Altea in the province of Alicante on the Costa Blaca where I would spend the night at a friends place. I was looking forward to the visiting with him, an old Salsa friend from Hamburg whom I had not seen him in what felt like an eternity. We both shared a passion for Cuban cigars and I was looking forward to a glass of rum and a "puro" which we would undoubtedly be on the agenda. That far south in Spain the beginning of November does not feel like the start of winter as it does in the north of Europe.
In the evening we strolled through the narrow cobbled streets of Altea's old town, had a peek out over the sea from the Mirador near the famous church Parròquia de Nostra Senyora del Consol. I marveled at its cuppolas of blue and white tiles, getting a first feeling for the rich moorish history of southern Spain, which until then I had not really been aware of. Later we had dinner in a tiny restaurant and took our rum and cigar outside a nice bar nearby overlooking a lonely little plaza.
The next morning we queued up at the post office – just as bad as in Italy, mind you. Silly me had taken the keys to the gite of Domaine Prade Marie all the way to Spain. I had dropped them into my handbag after locking up, a very natural thing to do, no?
Later, a long walk on the deserted beach refreshed us before facing the Saturday afternoon crowd at Mercadona to shop for a dinner with friends.
Originally posted November 9th, 2014
M
ercadona is like an "institution" in Spain. It is one of the biggest supermarket chains of the country, as I would come to realize later when I had moved to Spain in 2019. I still love their black chocolate with haszelnuts.