Going South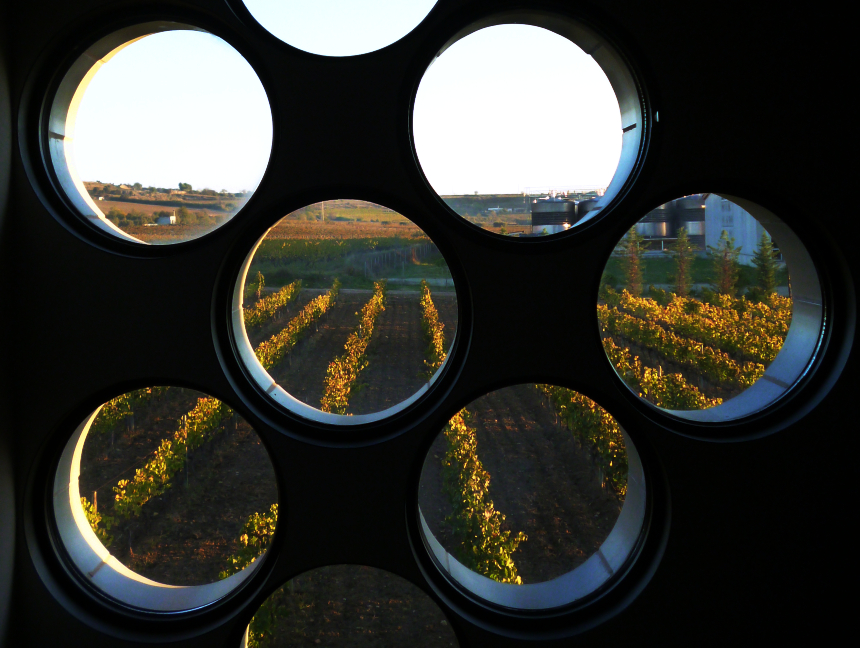 Wine Road Trip - Day 5 & 6
I
t was late afternoon when I left charismatic Codorníu, heading to Vilafranca de Penedès, some 15 Minutes away. There I would spend the night in the new boutique hotel belonging to the Cava producer Mastinell. The friendly shop assistant at Codorníu had advertised it as a "must-see". As it was low season the rates almost affordable a room was available.
When I got there I instantly understood what she meant by another "gem in terms of architecture". It was only fitting to exchange the Modernisme style of the young 20th century for a contemporary and actually sustainable architectonic take on a winery and hotel. It is stunning in its own way featuring an unusual wavy roof and round windows arranged so that they resemble bunches of grapes. The sight is a happy one and really made me smile. Words can#t begin to describe the view plus I have to admit that I did not take many pictures. Check the amazing photo gallery of the Mastinell Cava and Hotel for yourself.
Instead of looking to get a cheap dinner in the town I went all out and ordered a tasting menu paired with my new favourite Cavas: the Reservas. The meal and the wines were simply delicious and wonderfully tipsy and very tired I went to bed quite early – for Spanish standards. Another drive of 450 km was awaiting me the next day.
After a hearty breakfast I set out towards Altea in the province of Alicante on the Costa Blaca where I would spend the night at a friends place. I was looking forward to the visiting with him, an old Salsa friend from Hamburg whom I had not seen him in what felt like an eternity. We both shared a passion for Cuban cigars and I was looking forward to a glass of rum and a "puro" which we would undoubtedly be on the agenda. That far south in Spain the beginning of November does not feel like the start of winter as it does in the north of Europe.
In the evening we strolled through the narrow cobbled streets of Altea's old town, had a peek out over the sea from the Mirador near the famous church Parròquia de Nostra Senyora del Consol. I marveled at its cuppolas of blue and white tiles, getting a first feeling for the rich moorish history of southern Spain, which until then I had not really been aware of. Later we had dinner in a tiny restaurant and took our rum and cigar outside a nice bar nearby overlooking a deserted little plaza.
The next day I set out towards my next destination some 550 km south-west-west: Fuengirola on the Costa del Sol between Málaga and Marbella. Spain is a vast country, and not very densely populated further inland. I simply love driving in this country. I find it relaxing. There seem to be few cars and nobody is stressing me, cruising behind me only inches away from my bumper, as they like to do in Italy. Also zebra crossings are taken very seriously, cars actually do stop and let the pedestrians cross the streets in peace and quiet, whereas in Italy those fat white marks on the pavement seem to be considered "street art" or some sort of decoration with no impact on the flow of traffic whatsoever. Now you might think I am a slow driver, which I can assure you I am not. I make good use of the 143 HP of my Audi, after all I am the the daughter of a former race car driver – but that is another story.
H
ad known as much as I know today about Al Andalus - the muslim kindom in Spain - I surely would have stopped in Granada. But I was en route to give a wine tasting comparing the two big Italian reds, Barolo and Brunello. It was to take place the next day at my friend's wine shop Golf y Vinos in Fuengirola