Mutiny, Moon and Molluscs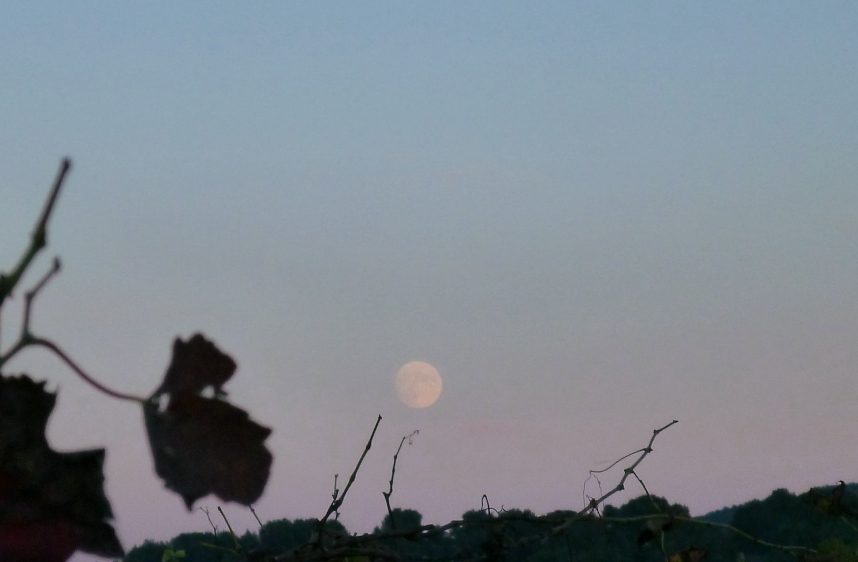 Wine Road Trip - Day 4 Concluding
M
ind you, it is somewhat disturbing if a real natural phenomena like a beautiful rainbow over a gigantic castle as the Cité de Carcassonne evokes the image of an artificial design, in this case the Disney logo. Perhaps I was watching to much television? Still pondering the power of images and the many ways they influence our perception I found myself in a traffic jam. I could not quite make out the cause, but slowly advancing around a bend in the road I became aware of something going on further ahead: an accident perhaps?
But something looked odd. There were quite a lot of men at the side of the road, both sides actually, plus a number of parked vehicles. Something on the left lane seemed to be drawing the mens' attention. As I got closer I realized that they moved with great purpose, anger even. And then I saw what was causing the hold up: a big pile of old tired was blocking the opposite lane.
Flames were leaping up, as some of the fellows, clad in coarse work clothes, lit a petrol doused tire. From the right side of the road a little group approached dragging a small tree to further fuel the fire. It felt eerie rolling past that scene, I was slow enough to take a picture, but it did not seem safe to do so. Now here was an image I truly would prefer to see on TV only. Later I learned that a nationwide protest of farmers was taking place. They were demonstrating against collapsing prices for French produce while costs were rising and environmental regulations tightened. At the same time imported produce is being offered at low prices in the shops.
I continued my drive back to Aigne, where Clémentine and I had agreed to prepare dinner together. I was looking forward to pairing Virnas Arneis de Langhe with fresh oysters that we were going to pick up in a nearby village. Aigne lies only about 30 km inland from the Mediterranean coast and the big salt-water lake the "Bassin de Thau" near Sète, where oysters are being cultivated. The Blanquette Méthode Ancestrale was going to be paired with the delicacies that I had picked up at the patisserie and a Rosso di Montalcino from Padelletti was going to accompany the cheese – no French dinner without it! I was driving along still marvelling at the expanse of abandoned vineyards when I spotted something beautiful ahead: a gigantic full moon, albeit pale, was rising above the rolling landscape.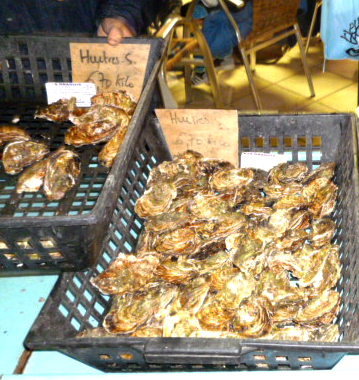 Back at La Prade Mari, I set off again with my hostess Clémentine to "buy provisions" for dinner. Over dark little country roads between vineyards we drove, only the full moon illuminating the land. In another small village about 10 km away something remarkable happens at the local bar each week on Wednesdays and Fridays. A man farming oysters and the cheese guy arrive to sell their fresh products. You can buy and eat them right there at the bar or take them home.
"In summer this place brims with people from all over the place", Clémentine explains. "Locals, tourists, it is like Babylon with all the different languages spoken." she adds smiling. "And everything is absolutely fresh. I talked to the oyster guy just this afternoon. At three he was still on his platform pulling up the oyster ropes."
Shopping with her is marvellous. She gets the best deals, she is in the wine trade. La Prade Mari's crisp, fruity Viognier is the oyster fisher's favourite. We get to slurp two oysters each while he piles up the precious clams in a special wooden box for us. At the cheese stand we hand over a half case of "Parfum de Garrigues", a hearty blend of Grenache, Syrah and Carrignan. We sample some cheeses and make our choice. One of the cheeses will be grated over the oysters after having added some wine and a little butter to each shell. They then go into the oven for about 20 minutes.
While Eric is finishing putting compost into the vineyards – La Prade Mari is an organic winery – the two of us prepare the meal in the gîte's kitchen; Oysters raw and baked, salad, cheese, bread and dessert.
At first I was a little doubtful of pairing the rather aromatic Arneis with delicate oysters. But the ones from the Mediterranean are much saltier and somewhat heartier than their Atlantic counterparts. We all agreed that a wine of a certain structure and fruit was absolutely in order. The elegance of the Rosso di Montalcino matched the grilled molluscs as well as the various cheeses. Antech's sweet sparkling Blanquette was fantastic; its fruit balancing out the cured cheese while adding freshness to the luscious pastries. What a fabulous dinner France meeting Italy! Simple food actually, of best fresh quality. The wines enhancing and rounding off flavours. "We should have a restaurant here", jokes Eric, who was raised in the hamlet Prade Mari 3 km outside Aigne. Laughingly I suggest a name: "La Vielle Bergerie, after all we are sitting in a converted sheep stable!"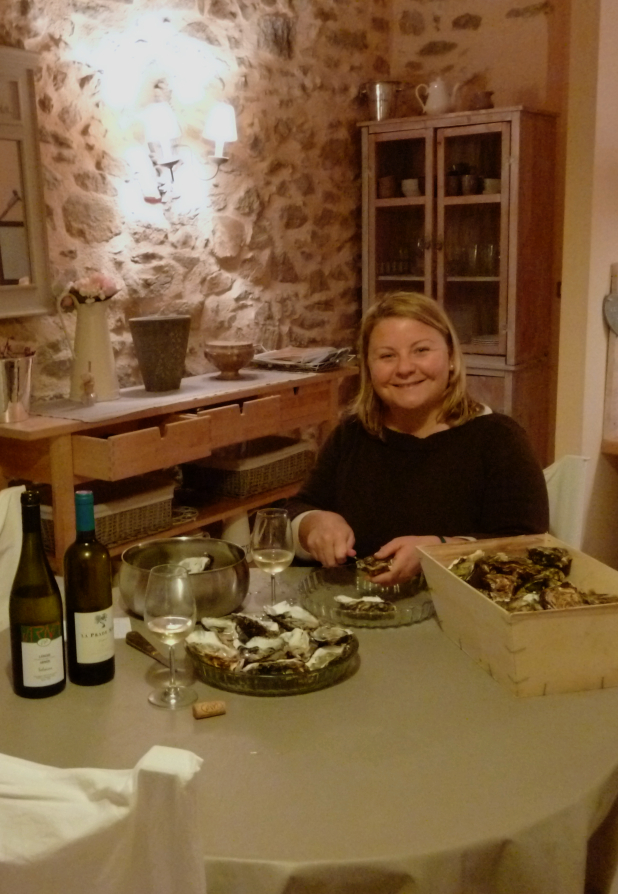 Eventually the evening draws to an end. Everybody has to be up early. Eric tending to the vines, Clémentine has an appointment in town and I will be heading south to taste Cava in Pendès.
Originally posted November 7th,2014